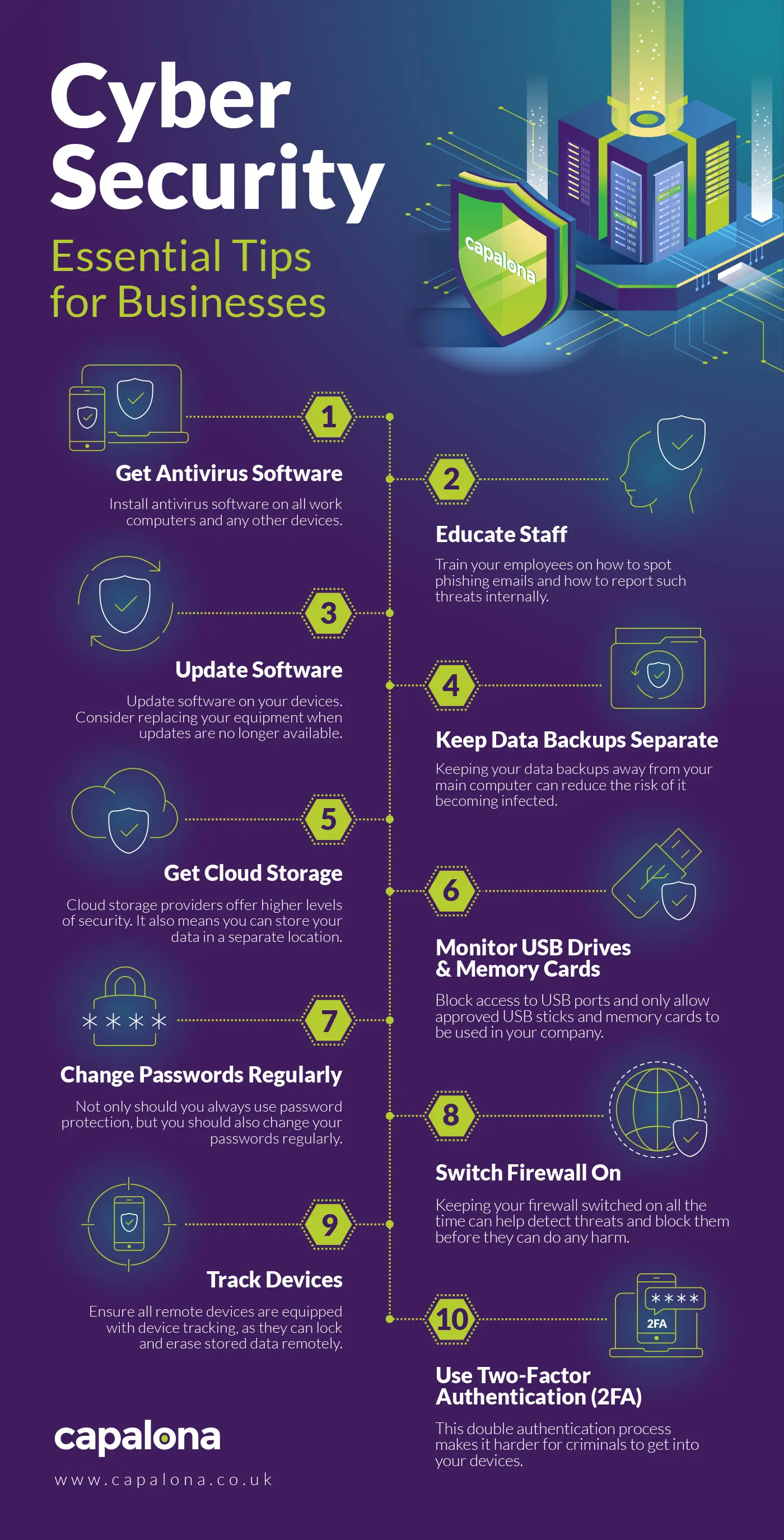 A recent report by the Federation for Small Businesses (FSB) found that 20% of small businesses were victims of cybercrime, with a single cyberattack costing businesses around £1,300.
There's no denying that cyber-attacks and data breaches are on the increase. Not only can such threats disrupt your business, but they can cost your business money and have a lasting impact on customer confidence.
There are many ways businesses can mitigate data security threats. Here are
ten cyber security tips to help protect your business against growing cyber threats:
1. Get Antivirus Software
Download and install antivirus software on all work computers and any other devices that you use. This is one of the easiest ways to help protect your company devices from a cyber attack.
2. Educate Staff
Train your employees on how to spot phishing emails and how to report such threats internally. Consider including staff awareness training in your onboarding process.
3. Update Software
Make sure you update the software on your devices to the latest version. Consider replacing your equipment when updates are no longer available.
4. Keep Data Backups Separate
Keeping your data backups away from your main computer can reduce the risk of it becoming infected. Not only this, but it's sensible to do this in case of fire and theft.
5. Get Cloud Storage
Cloud storage providers offer higher levels of security. It also means you can store your data in a separate location.
6. Monitor USB Drives & Memory Cards
Block access to USB ports and only allow approved USB sticks and memory cards to be used in your company. Consider granting permissions to approved users only.
7. Change Passwords Regularly
Not only should you always use password protection, but you should also change your passwords regularly. It's a simple yet effective way to protect your company data.
8. Switch Firewall On
Keeping your firewall switched on all the time can help detect threats and block them before they can do any harm. They can also prevent malicious software from accessing a computer.
9. Track Devices
Ensure all remote devices are equipped with device tracking, as they can lock and erase stored data remotely. This helps protect company data should an employee working remotely misplace a device, or it gets stolen.
10. Use Two-Factor Authentication (2FA)
This double authentication process makes it harder for criminals to get into your devices. Consider setting this up if this security option is available to you.
Created by
Capalona
(a trading name of
Sorodo Limited
)